If you want to download the Overloud plugin but you can't find the download link, or if you change Computer and want to re download all the plugins but you don't know how to do that, this is the right guide for you.
The first thing you have to do is to go to our website.
In the top right corner you can find a menu with the login button and the button to register in case you aren't yet registered.
After you open the login page you can find the login form: enter the email and the password you used to register on our site.
On this page you can also reset the password if you lost or forgot it.
Once you have logged in, you will be in a page named "Serial numbers" in which are listed all you licenses and the relative serial numbers. From here you can also deauthorize your plugins by clicking on the trash icon pointed by the red arrow n.1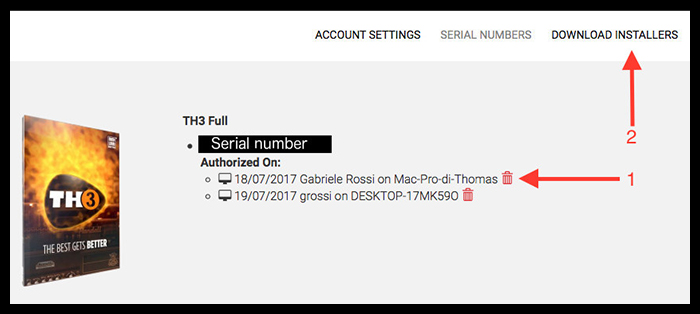 At this point click on "Download installers" pointed by the red arrow n.2.
Now you will see a list of all the plugins that you own and the relative download links for Mac and PC and the changelog which describes the history of the version and their improvements.