Choptones Bogie Fill50 - TH-U Rig Library
Bogie Fill50 is the TH-U expansion library, created by Choptones, seeking to recreate the sound of a Mesa Boogie Fillmore 50* with 6L6 power tubes.
Come on, let's be honest! When you hear the name Mesa, you just wanna listen to heavy and high gain tones for hard rock and metal guitars, but don't forget that modified Princeton started it all. Saying that, this amp takes the classic US tones to a next level, with the quality of premium components that now you can enjoy in your Rig Player. Various settings as always to give you the top on guitar tone Capturing.
The Bogie Fill50 library contains 96 rigs, captured using the following gear*:
Cabinets
Mesa Boogie Fillmore 50 1x12 loaded with Celestion C90
Mesa Boogie 4x12 loaded with Celestion G12M, V30
Marshall 4x12 loaded with Celestion G1250
Mesa Boogie 2x12 loaded with Celestion Creamback M65
Mesa Boogie 2x12 loaded with Celestion C90
Fender Bassman 1965 2x12 loaded with Fender Oxford 12T6
Fender 1x12 loaded with Celestion V-Type
Mics
Shure SM57, SM7, SM58
Sennheiser e609, MD421, MD441
Audix i5
Royer R121
Beyerdynamic M160, M201TG
Audiotechnica AT2035
Neumann KM184, U87
RM700
Retrotube II
Boosted with:
MXR Modified OD
MXR Joe Bonamassa Fet Driver
MXR Distortion III
Marshall Bluesbreaker
Boss OD1
Suhr Shiba Drive
Paul Cochrane Timmy OD
MI Crunch Box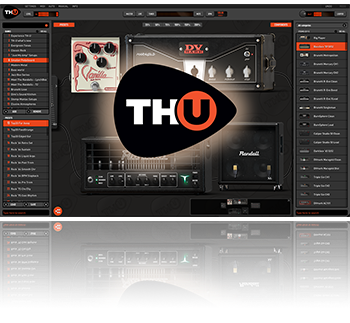 How to use it
This Rig Library can be loaded into any edition of TH-U which includes the Rig Player:
How to Install
1. Drag the library file into TH-U
2. Enter the serial number you have received after purchasing the library
* Any use of third party trademarks, logos, mentioned brand names, products and services is only referential and Overloud hereby disclaims any Sponsorship, Affiliation or Endorsement of or by any such third party.