Choptones Brit 1987 - Rig Library
Brit 1987 is the TH-U expansion library, created by Choptones, seeking to recreate the sound of a Marshall 1987X*. After re-tubing their faithful 1987x with Svetlana EL-34 for the power amp and JJ for the pre amp, Choptones engineers captured different tones using all kind of possible combinations giving you best rigs on the market.
The Brit 1987 library contains 84 rigs, which have been captured using the following gear*:
Cabinets
Marshall 4x12 loaded with Celestion G12M, G12T75, G12C, G12EVH
Marshall 4x12 loaded with Scumback M75
EVH 5150III 4x12 loaded with Celestion G12EVH
Soldano 4x12 loaded with Eminence Legend V12
Bogner 4x12 loaded with Celestion V30
Mesa Boogie 4x12 loaded with Celestion V30
Custom Audio Amplifiers 4x12 loaded with Celestion Creamback 75
Marshall 2x12 loaded with Celestion V30, G12T75
Fender Bassman Cab
Mics
Shure SM7, SM57
Beyerdynamic M160
Sennheiser MD421, MD409
Neumann U87
Royer R121
AKG C414
Heil PR30
Stomp boxes
MXR Modified OD
Mesa Flux Drive
MXR Berzerker OD
CLAnalog The Gentlefuzz
Ibanez TS9
Fender Malmsteen OD
DOD YJM308 Yngwie Malmsteen Signature
Marshall Bluesbreaker
Boss HM2 Heavy Metal
Mesa Grid Slammer
MXR Wylde OD
The Overloud proprietary technology allows our engineers to capture the response of an entire rig, including the nonlinear and dynamic response of the amplifier, the cabinet, the microphones, the mic preamplifier and the room sound.
The Rig Player, integrated into TH-U, allows you to reproduce any nuance of the sampled rigs.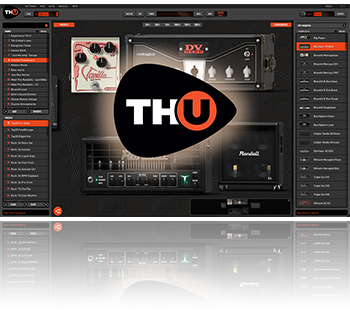 How to use it
This Rig Library can be loaded into any edition of TH-U which includes the Rig Player:
How to Install
1. Drag the library file into TH-U
2. Enter the serial number you have received after purchasing the library
* Any use of third party trademarks, logos, mentioned brand names, products and services is only referential and Overloud hereby disclaims any Sponsorship, Affiliation or Endorsement of or by any such third party.