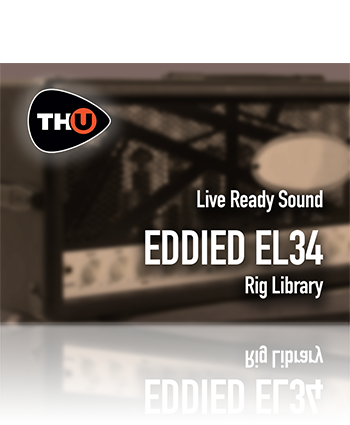 LRS Eddied EL34 - Rig Library
LRS Eddied EL34 is the TH-U expansion library, signed by Live Ready Sound, seeking to recreate the sound of an authentic EL34 based EVH 5150 III* head through many cabinets, mics, speakers, distortion pedals and different tube choices in the preamplifier.
This is a three channel head: the green channel boasts a more sparkling and compressed clean tone, while blue and red channels have a slightly darker and compressed tone with even more saturation.
The LRS Eddied EL34 library contains 173 rigs:
42 amp-olny ("direct") rigs
131 amp+cab rigs
A set of rigs has been obtained by plugging different preamp tubes:
8 rigs with the 12AT7
13 rigs with the 12AU7
5 rigs with the 12AY7
4 rigs have been created pairing a Engl Savage* 6550 power amp
6 rigs are boosted with a Savage Drive*
4 rigs have been inspired to the guitar sound of the Down* band
Combinations of the following microphones have been used:
Shure SM57
Sennheiser MD421
Heil PR20
Sennheiser E609
Beyerdynamic M160
ALSO ON iOS

This library is available on iPhone and iPad for the THU App & Plug-in.
Get it in the App Store

If you already own the library for Mac or Windows, you can extend the license for iOS at just $1
 
HOW TO USE IT
This Rig Library can be loaded into any TH-U edition.
If you don't own TH-U, then by purchasing this library you will receive a TH-U Essential License for free.

WATCH THIS TUTORIAL FOR A STEP-BY-STEP GUIDE ON THE RIG PLAYER
 
How to Install
1. Drag the library file into TH-U
2. Enter the serial number you have received after purchasing the library
* Any use of third party trademarks, logos, mentioned brand names, products and services is only referential and Overloud hereby disclaims any Sponsorship, Affiliation or Endorsement of or by any such third party.