MF T&B 008 - Rig Library
MF T&B 008 is the TH-U expansion library, signed by Marco Fanton, seeking to recreate the sound of an authentic T&B 008 Head built by the Italian boutique manufacturer T&B Amplification.
The 008 is a single channel head which delivers a hot rod british style. The design is based on a British 800 circuit, modded to add a massive amount of gain with 4 x KT88 tubes and 4 x 12AX7 tubes!
The MF T&B 008 library contains 43 rigs, which have been captured using the following gear*:
Cabinets
T&B 2x12" with WGS speakers
Mesa 4x12 Standard
Koch 4x12 loaded with

VG12-90

Brit 4x12 loaded with V30
Brit 4x12 1960 Greenback
Mics
Shure SM57
Sennheiser MD421
Royer R121
Sennheiser E609
SE Electronics VR1
Sontronics Sigma 2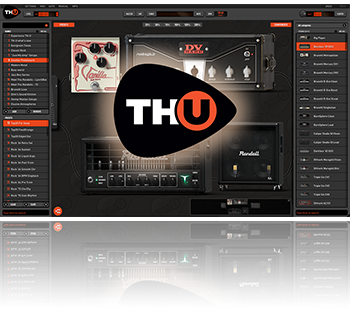 How to use it
This Rig Library can be loaded into any edition of TH-U which includes the Rig Player:
How to Install
1. Drag the library file into TH-U
2. Enter the serial number you have received after purchasing the library
* Any use of third party trademarks, logos, mentioned brand names, products and services is only referential and Overloud hereby disclaims any Sponsorship, Affiliation or Endorsement of or by any such third party.