REmatrix + Factory Library
REVERBERATION REDEFINED!
Parallel IR procesor for incredibly natural reverbs.
THE PROFESSIONAL SOLUTION FOR DEMANDING ENGINEERS
REmatrix features five individual convolvers and an effect chain working together to create complex and unique spaces that cannot be obtained with any other tool. REmatrix is a professional solution for engineers looking for:
the most impressive reverb ever created by a plugin
a streamlined workflow: go from the idea to the final tone in a few clicks
a huge factory library (330 IRs and 670 presets) created by one of the world leading sound  designers, MoReVoX, specifically designed and supported by an  extensive preset list
​a proprietary technology to add liveliness and richness to the static nature of convolvers.

"REmatrix is very cool!
I love being able to mix and match the reverb types all in the same
interface to get what I'm hearing in my head. Nice job!"

- Andrew Scheps (Red Hot Chili Peppers, Jay-Z, U2, Adele, Justin Timberlake, Metallica, Michael Jackson, Lady Gaga, Lana Del Ray, Green Day)
"REmatrix has added a whole new dimension to my mix process.
With over 500 presets and the ability to mix 5 individual impulses, it is so much easier to fine tune the spaces i'm creating for all the different instruments in the mix.
Will not have a mix without it!"
- Butch Jones (Madonna, Talking Heads)
"I'm loving the ReMatrix.   The reverb sounds themselves are so strong, and the ability to blend different spaces is crazy.
Adding to that, the effects section makes it perfect. 
Adding a bit of drive and then compressing the output and adding a little top end is so quick and allows immediate
shaping in the mix.  Great step forward here !"

- David Kahne (Paul McCartney, Regina Spektor, The Strokes, Ingrid Michaelson ...)
"REmatrix lets me create unique spaces, complete with master section processing, in one complete plugin package. Bravo!!"
- John Paterno (Robbie Williams, The Steve Gadd Band, Eros Ramazzotti)
"REmatrix is one of the most addictive software I have ever owned!  
Can't stop using it on every mix. Highly recommend it!
I am sure you'll TRULY ENJOY IT"
- Rafa Sardina 12 Time Grammy Winner
(Stevie Wonder, Elvis Costello & The Roots, Lady Gaga,
Placido Domingo, Michael Jackson, Mariah Carey, Celin Dion …)
WHY REMATRIX
Convolution reverbs are great when you need to replicate a sampled space; however the typical IR offers only simplistic adjustments and does not allow more creative changes to the nature of the generated ambience.
What if you need that greater level of control?
What if you want to more fundamentally change an underlying element originally captured inside the impulse response?
REMATRIX IS THE ANSWER
REmatrix combines five convolvers working simultaneously and in parallel without any phase issue.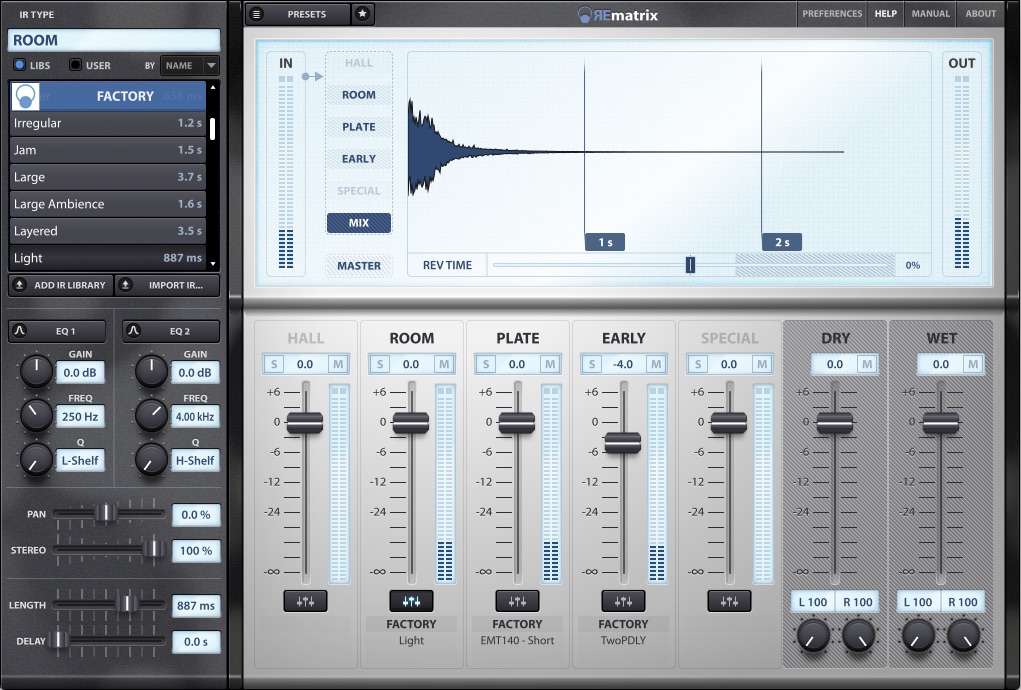 REVERB FOR MUSIC
You can build your own IR by summing five separate IRs, offering an all new level of customizability inside the reverb.
Each of the five IRs can be adjusted using multiple parameters while additional filters offer further tonal control. Furthermore, REmatrix has six Master Effects to refine the reverb sound and fit the needs of your final mix.

REmatrix combines the best of convolution reverbs along with unprecedented levels of flexibility.

Whether you use the high quality factory library (based on the well-known MoReVoX libraries) or your own custom libraries, REmatrix lets your approach reverb with a brand new perspective and create both unique and unparalleled textures.
REVERB FOR POST-PRODUCTION
REmatrix includes the license of PostPro Gold, an expansion library dedicated to post-production.