The new generation of amp simulation is on iOS!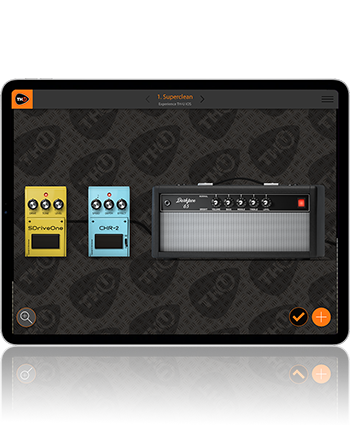 TH-U for iOS is here!
239 models and thousands of captured rigs, the world's largest collection!
89 guitar amplifiers and 4 bass amplifiers
50 guitar cabinets and 2 bass cabinets
77 pedal and rack effects
18 microphone models, with up to four mics on each cabinet
More than 1000 presets covering all musical styles
Standalone and AUv3 version
Rig Player allows you to reproduce rig models created by capturing real setups
More than 4000 Rigs, captured from real setups, available as in-app purchases
Amp Tweak technology, allows you to mod the amplifiers by changing the preamp and poweramp tube models, as well as simulating the action of a variac
Same 4th generation DSP engine as in the TH-U Desktop version
Share presets with TH-U Desktop using any Cloud services
Fully controllable with MIDI, for live playing
Share presets. Same audio engine.
You can share the presets between TH-U Desktop and TH-U iOS using all the most common Cloud services, like iCloud, Dropbox and Google Drive.
Thanks to the increased power of new iOS devices processors, TH-U iOS runs the same DSP engine of TH-U Desktop and delivers the same astonishing simulations with no compromise on the audio quality.
MODELLING or CAPTURING? You can have BOTH!
TH-U is the first amp simulation wich includes both the amp modelling and the amp capturing technology.
The Rig Models are created from real setups: the Overloud proprietary technology allows our engineers to capture the response of an entire rig, including the nonlinear and dynamic response of the amplifier, the cabinet, the microphones, the mic preamplifier and the room sound.
The Rig Player, integrated into TH-U, allows you to reproduce any nuance of the sampled rigs and to combine the models of different setups.
REMASTERED CABINETS
As mixing tastes are evolving, sound engineers are demanding for guitar sounds with more presence and an in-your-face tone. That's why we remastered all the TH-U cabinets. Now you can choose between the original tone and the remastered one. Only the stock cabinets have been remastered; the cabinets in the Rig Libraries are unaffected.
Amp Tweak
Thanks to its innovative dsp technology, TH-U features a new panel which allows you to change the pre and power tubes models, as well as to simulate the action of a variac. This allows you to mod any amplifier model with an almost limitless combination of tubes and opens the product to new sound capabilities.