203 models, the world's largest collection into a single software.
Important news
This product is now discontinued. It has been replaced by TH-U Full.
Customers who purchased TH3 Full between Jan 7th 2019 and the day of TH-U release (Feb 12th 2019) are eligible for a free upgrade to TH-U Full.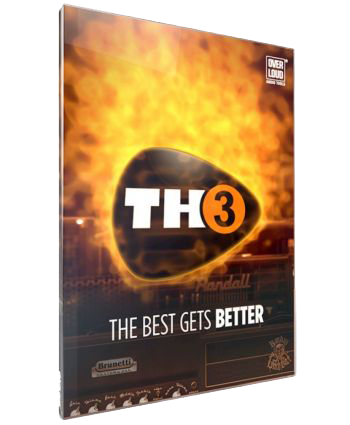 Key Features
203 models, the world's largest collection into a single software, including:
Randall®, DVmark®, Brunetti® and THD® authorized models approved by original manufacturers
69 guitar amplifiers and 3 bass amplifiers
35 guitar cabinets and 2 bass cabinets
75 pedal and rack effects
18 microphone models, with up to four mics on each cabinet
More than 1000 presets covering all musical styles
One entire preset bank dedicated to bass.
4th generation analog emulation technology, with proprietary nonlinear processing algorithm
3D, gap-less positioning of microphones and room simulation
Advanced cabinet emulations with ReSPiRe 2 technology
Built-in convolver to load external guitar cab IRs
Easy to build or modify your own signal path
Intelligent MIDI controls
BREVERB and SpringAge based reverb effects
Full compatibility with TH2 user presets
Authorized modeling
TH3 includes 41 models approved by original manufacturers Randall®, Brunetti®,
DVmark® and THD®
DOWNLOAD FREE ADDITIONAL PRESETS
For this library just drag the bank file into the TH3 interface to import the presets.
08/08/2017 - ARTIST PACK #1
Intelligent Midi Setup
Setting up a MIDI floorboard is as easy as clicking an element into TH3 interface and pressing the corresponding pedal in the MIDI floorboard. TH3 learns the MIDI connection and uses it into any preset automatically. Gigs have never been so fun with TH3!
Bass Models Included
TH3 includes 3 bass amplifiers, 2 bass cabinets, 1 bass graphic equalizer, a bass tuner as well as a preset bank entirely dedicated to bass tones.
3D Cabinet Simulation
TH3 offers a matrix of 4 microphones which can be placed anywhere in the 3D space in front and even behind the cabinet. Just drag a microphone and place it where you want.
Change the relative distance between microphones to obtain creative phasing effects, just like you do in a real cabinet room.
6 different room types can be selected.
The ReSPiRe 2 technology allows to choose between the real response of the cabinet and a processed version optimized to fit into a mix and avoid frequencies overlap with the other instruments.
On bass cabinets you have a separate control over the woofer and the tweeter levels.
Creative Effects
TH3 is not just an amplifier replacement. It is a creative tool which allows to craft your personal tone and explore the boundaries of your instrument. Transform your electric guitar into an acoustic guitar. Create synth-like tones with the ring modulator. Turn the guitar into an organ with the organ-tone-maker. Import any Impulse Response from third part libraries to extend the TH3 tones without limits.