BHS Iconic 1 - Hair Metal
Everything you need to recreate the most iconic guitar tones of the Hair Metal era.
46 patches and 46 captured rigs designed by Michael Nielsen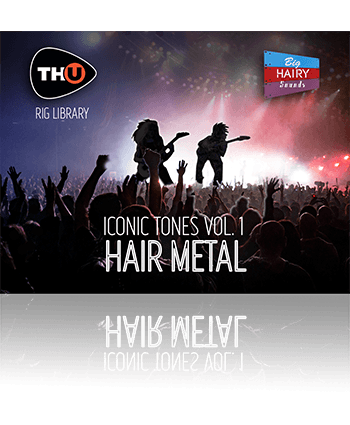 BHS Iconic 1 - Hair Metal
46 CAPTURED RIGS
46 ARTIST PATCHES
10 AMPS & PREAMPS
Everything you need to recreate the most iconic guitar tones of the Hair Metal era. The pack is designed by Michael Nielsen and it is created by capturing the following amplifiers:
Randall* RG100
Rockman* XPR100
Marshall* JMP-1
Marshall* JCM800
Marshall* Silver Jubilee*
Marshall* 1959 Superlead
A/DA* MP-1
Kitty Hawk* Quattro
Soldano* X99
Mike Morin* Preamp
ARTIST PRESETS
The pack includes 46 patches, inspired by the tone of the most influential artists, like:
Def Leppard
Bon Jovi
Ozzy Osbourne / Zakk
Ratt
Skid Row
White Snake
White Lion
Winger / Reb Beach
Europe
See below for the full list of rigs and patches.
ALSO ON iOS

This library is available on iPhone and iPad for the THU App & Plug-in.
Get it in the App Store

If you already own the library for Mac or Windows, you can extend the license for iOS at just $1
 
HOW TO USE IT
This Rig Library can be loaded into any TH-U edition.
If you don't own TH-U, then by purchasing this library you will receive a TH-U Essential License for free.

WATCH THIS TUTORIAL FOR A STEP-BY-STEP GUIDE ON THE RIG PLAYER
 
How to Install
1. Drag the library file into TH-U
2. Enter the serial number you have received after purchasing the library
* Any use of third party trademarks, logos, mentioned brand names, products and services is only referential and Overloud hereby disclaims any Sponsorship, Affiliation or Endorsement of or by any such third party.