Choptones Bogie IIC P
The giant pack with the most complete capture of a Boogie Mark IIC+* ever created + NEW EQ Pedal (250 Rigs)
Choptones Bogie IIC P
Bogie IIC P is the TH-U expansion library, created by Choptones, seeking to recreate the sound of the legendary Boogie Mark IIC+* 2 Channel Simul-Class head and of its Graphic EQ.
Both the half-power (60W) and the full power (100W) output modes have been captured, as well as all the Pull Bright, Pull Shift and Pull Deep combinations.
The head has been paired with a wide variety of overdrive and distortion pedals, cabinets and microphones, during the sampling process, including*:
Cabinets
Mesa Boogie 4x12 loaded with Celestion V30, C90, Lynchback
Engl 4x12 loaded with Celestion V60
Soldano 4x12 loaded with Eminence Legend V12
Marshall 4x12 loaded with Celestion V30, G12T75, G12K100, Classic Lead 80, G12M, Rola,

 

Bogner 4x12 loaded with Celestion V30
EVH 5150III 4x12 loaded with Celestion G12EVH
Bogner 2x12 loaded with Celestion V30
Marshall 2x12 loaded with Celestion G12M
Mesa Boogie 2x12 loaded with Celestion V30
Mesa Boogie Mark IIC+ cabinet 1x12 loaded with Electrovoice EV12
Mics
Shure SM57, SM7
Royer R121
Sennheiser MD421, MD21
Audix i5
Beyerdynamic M160
Neumann U87
Electrovoice RE20
Heil PR30
Boosted with
MXR Wylde OD
Mesa Grid Slammer
Mesa Flux Drive
Seymour Duncan 805
Ibanez TS9
Protone Attack OD
Boss BD2 Blues Driver
Boss SD1 TS808 Mod
Graphic EQ Included as additional model
The Bogie IIC P library adds a brand new Graphic EQ model into the TH-U model list. It is designed to recreate the 5 bands eq of the IIC+ head, which allows to shape the tone with a very distinctive voicing, thanks to the unique operating frequencies.
By authorizing the Bogie IIC P library, this new pedal will appear in the TH-U model list.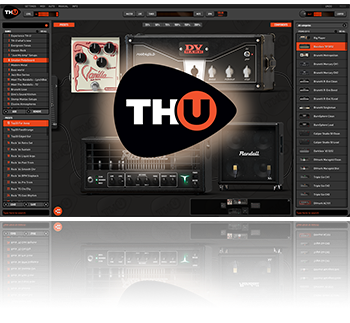 How to use it
This Rig Library can be loaded into any edition of TH-U which includes the Rig Player:
How to Install
1. Drag the library file into TH-U
2. Enter the serial number you have received after purchasing the library
* Any use of third party trademarks, logos, mentioned brand names, products and services is only referential and Overloud hereby disclaims any Sponsorship, Affiliation or Endorsement of or by any such third party.