Choptones Super Thunder
The unique capture of a Supro* Thunderbolt with multiple setups (70 Rigs)
Choptones Super Thunder - Rig Library
Super Thunder is the TH-U expansion library, created by Choptones, seeking to recreate the sound of an authentic Supro* Thunderbolt 1x15" combo.
This legendary amplifier has a particularly warm and punchy tone thanks to its 35-Watt "Class A" Cathode bias power amp. The library contains 70 rigs, captured with a wide variety of cabinets and microphones, including*:
Cabinets
Supro Thunderbolt 1x15 loaded with Supro TB15
Zilla Custom Fatboy 2x12 loaded with Celestion Creamback M65
Mesa Boogie 2x12 loaded with Celestion C90
Bogner 1x12 CPS loaded with Celestion Alnico Blue, G12M
Bogner 1x12 CPS loaded with Jensen C12Q
Custom 1x12 loaded with Rola Celestion G12-50
Mics
Shure SM57, SM58, SM7
Sennheiser e609, MD21, MD421
Royer R121
Audix i5
Electrovoice RE20
Audiotechnica AT2035
Beyerdynamic M160, M201TG
AKG C414
Neumann U87
Grundig GDM121
RM700
Retrotube II
Boosted with
Ibanez TS9
Boss BD-2
MXR Berzerker OD
MXR Distortion III
MXR Joe Bonamassa Fet Driver
MI Crunch Box
Maxon OD808
Marshall Bluesbreaker
Tube Pusher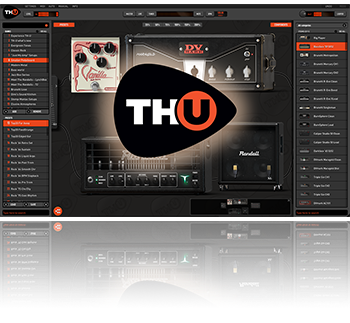 How to use it
This Rig Library can be loaded into any edition of TH-U which includes the Rig Player:
How to Install
1. Drag the library file into TH-U
2. Enter the serial number you have received after purchasing the library
* Any use of third party trademarks, logos, mentioned brand names, products and services is only referential and Overloud hereby disclaims any Sponsorship, Affiliation or Endorsement of or by any such third party.