LRS Acoustic Dream
Piezo enhancing library for solid body and acoustic guitars (30 rigs)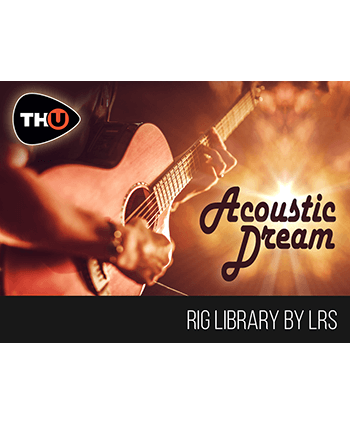 The Piezo enhancing library
Acoustic Dream TH-U pack is made to assist with making piezo equipped solid body and acoustic guitars reach a better tone in both live and recording situations.
The variation in piezo systems is quite wide. We have studied many different guitars, piezo setups and preamps to come up with a variety of simulations, including:
Simga Acoustic* 6 string reference
LR Baggs Anthem* piezo system
Takamini* 6 string acoustic reference
Yamaha* 12 string acoustic with Art* piezo
Godin* 6 string solid body piezo
Music Man* JP6 solid body piezo
Fender* Band Master* preamp
Mezzabarba* Trinity* preamp
Morgan* AC20 preamp
Matchless* HC30 preamp
The rigs are made purposely without a cab section.
While the initial idea behind this pack was for piezo enhancement we also include some aimed to help with making a magnetic pickup more acoustic like for utility.
ROOM CAPTURING
The library also has room-based rigs, which have been captured by including the room reflections. That may deeply change the perception of the overall tone and widely extends the tone capabilities of the library.
SEP 21st, 2022 UPDATE
The library has been extended with two new presets, for Taylor ES2 pickups and for Magnetic Pickup Conversion.
Download the Taylor ES2 preset.
Download the Magnetic Pickup Conversion preset.
ALSO ON iOS

This library is available on iPhone and iPad for the THU App & Plug-in.
Get it in the App Store

If you already own the library for Mac or Windows, you can extend the license for iOS at just $1
 
HOW TO USE IT
This Rig Library can be loaded into any TH-U edition.
If you don't own TH-U, then by purchasing this library you will receive a TH-U Essential License for free.

WATCH THIS TUTORIAL FOR A STEP-BY-STEP GUIDE ON THE RIG PLAYER
 
How to Install
1. Drag the library file into TH-U
2. Enter the serial number you have received after purchasing the library
* Any use of third party trademarks, logos, mentioned brand names, products and services is only referential and Overloud hereby disclaims any Sponsorship, Affiliation or Endorsement of or by any such third party.