BM Pro Acoustic
The Acoustic Guitar Toolbox! 29 Captures of pre-amps and acoustic pedals.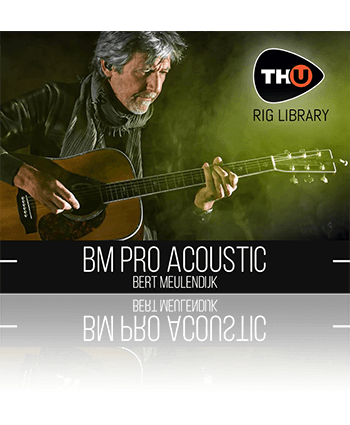 BM Pro Acoustic - Rig Library
BM Pro Acoustic is the TH-U expansion pack, created by Bert Meulendijk, dedicated to acoustic guitar processing. It has been created by capturing multiple acoustic pre-amps and pedals and it covers various acoustic styles of playing, from strumming to fingerpicking (steel and nylon string).
"I have used a Jonker L-00 loaded with a K&K pure mini pickup which is a piezo system and a Martin D41 loaded with a LR Baggs Anthem pickup which is a system that uses a mic, piezo, and a blend of those two. So I've tried to use a wide spectrum of pickup types.
I use both guitars for live-gigs and in the studio.
For the nylonstring parts I've used a Yamaha APX-10NA
I tweaked this set of rigs to sit right in a mix although they can easily be used for solo purposes too."
The library contains 29 Rigs and 22 patches captured from the following pre-amps and pedals:
BM AC TG : recreation of a Chandler* TG 2 pre-amp
BM AC A-MP1 : recreation of a ADA* MP-1 preamp
BM AC Aurora : recreation of a Fishman* Aura pedal
BM AC Ven : recreation of a LR Baggs* Venue DI pedal
BM AC CA+ : recreation of a CAE* 3+ pre-amp
BM AC Rover : recreation of an Ernst Fliek* The Rover pre-amp
BM AC AA : recreation of a Focusrite* Red 1 pre-amp
BM AC German : recreation of a Chandler* Germanium pre-amp
BM AC German + AMK : recreation of a Chandler* Germanium pre-amp in combination with an Amek* Pure path.
BM AC Rad : recreation of a Radial* JDV pre
FREE TH-U ESSENTIALS WITH THIS LIBRARY
You will receive a TH-U Essentials license for free with the purchase of any Rig Library.
A TH-U Essentials license will be deposited on your account when you authorize a Rig Library.
Discover TH-U Essentials...
UNIQUE EFFECTS INCLUDED
The library also includes two unique effects designed with Bert Meulendijk.
The Stryverb is a rich and lush reverb effect, with a long and modulated tail, with a very modern vibe.
The Parallel Compressor includes a Parallel knob which allows to blend the direct to the compressed tone, in order to have a full control over the dynamic of the instrument.

OUR CAPTURING TECHNOLOGY
TH-U is the first amp simulator which includes both the amp modeling and capturing technologies.
The Rig Models are created from real setups: the Overloud proprietary technology allows to capture the response of an entire rig, including the nonlinear and dynamic response of the amplifier, the cabinet, the microphones, the mic preamplifier and the room sound.
The Rig Player, integrated into TH-U, allows you to reproduce any nuance of the sampled rigs and to combine the models of different setups.
ALSO ON iOS

This library is available on iPhone and iPad for the THU App & Plug-in.
Get it in the App Store

If you already own the library for Mac or Windows, you can extend the license for iOS at just $1
 
HOW TO USE IT
This Rig Library can be loaded into any TH-U edition.
If you don't own TH-U, then by purchasing this library you will receive a TH-U Essential License for free.

WATCH THIS TUTORIAL FOR A STEP-BY-STEP GUIDE ON THE RIG PLAYER
 
How to Install
1. Drag the library file into TH-U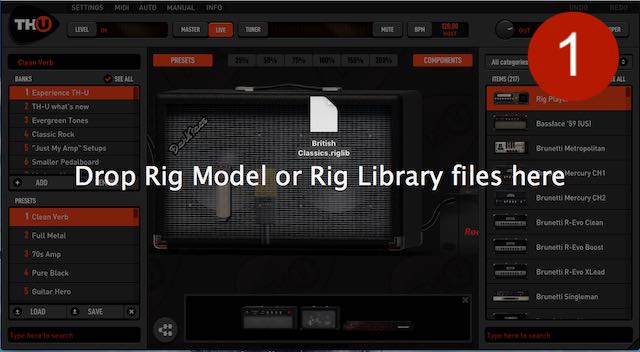 2. Enter the serial number you have received after purchasing the library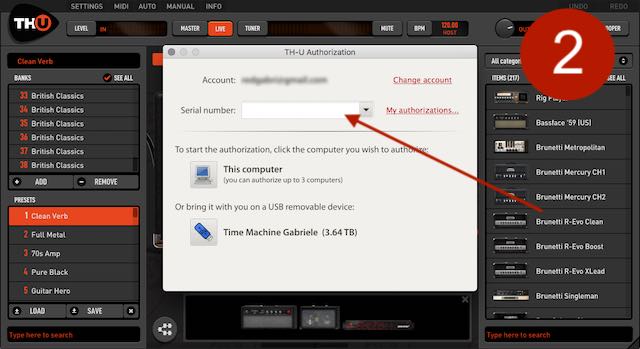 * Any use of third party trademarks, logos, mentioned brand names, products and services is only referential and Overloud hereby disclaims any Sponsorship, Affiliation or Endorsement of or by any such third party.