Choptones Brit 800 2C - Rig Library
Brit 800 2C is the TH-U expansion library, created by Choptones, seeking to recreate the sound of an authentic Marshall 4210 JCM800* 2 Channel.
In addition to its built-in speaker, the amp has been paired with other external cabinets during the capturing process in order to expand its tonal capabilities. Choptones capture includes 78 rigs created with the following gear*:
Cabinets
Marshall 1960 4x12 loaded with Celestion V30, G12T75
Marshall 425 4x12 loaded with Celestion G12C
Marshall 4210 1x12 loaded with Celestion G12T75
Friedman 4x12 loaded with Celestion V30
EVH 5150III 4x12 loaded with Celestion G12EVH
Mesa Boogie 2x12 loaded with Celestion A-Type
Vox 2x12 loaded with Celestion Alnico Blue
Mics
Shure SM57, SM57, SM7
Sennheiser MD421, e609
Royer R121
Beyerdynamic M160
Neumann U87
AKG C414
Audiotechnica AT2035
Audix i5
Grundig GDM121
RM700
Retrotube II
Boosted with
Boss HM2
Carl Martin Plexitone
Paul Cochrane Timmy OD
Ibanez TS9
Marshall Bluesbreaker
ALSO ON iOS

This library is available on iPhone and iPad for the THU App & Plug-in.
Get it in the App Store

If you already own the library for Mac or Windows, you can extend the license for iOS at just $1
 
HOW TO USE IT
This Rig Library can be loaded into any TH-U edition.
If you don't own TH-U, then by purchasing this library you will receive a TH-U Essential License for free.

WATCH THIS TUTORIAL FOR A STEP-BY-STEP GUIDE ON THE RIG PLAYER
 
How to Install
1. Drag the library file into TH-U
2. Enter the serial number you have received after purchasing the library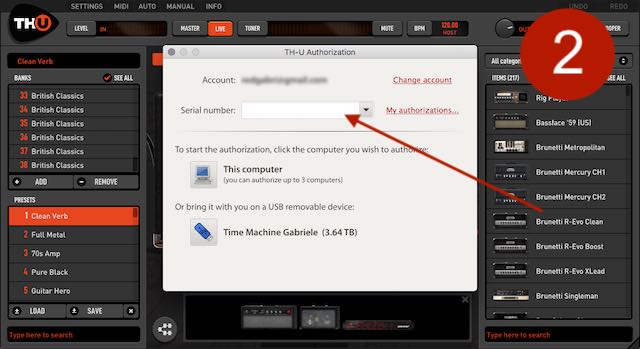 * Any use of third party trademarks, logos, mentioned brand names, products and services is only referential and Overloud hereby disclaims any Sponsorship, Affiliation or Endorsement of or by any such third party.