TAF MidGain Monsters
29 Amps + 29 Cabs from TheAmpFactory collection of rare amplifiers captured for medium gain tones!
TAF MidGain Monsters
TAF MidGain Monsters is the TH-U Rig Library created by the legendary sound designer TheAmpFactory, based on the Orange Tree Studios collection of rare amplifiers.
The library has been captured using the following 29 guitar amplifiers:
Marshall* 1987x
CornFord* Carrera
Diezel* Herbert
EVH* 5150*
Budda* Super 18
Peavey* Classic 50
Marshall* JMP* H/W
Marshall* JMP* Mod Mk2
Soldano* 100
Orange* OR50
Orange* Matamp
1996 Soldano* hotrod
Mesa* Mark V
Mooer* Lil Monster
Mesa* Roadking*
Marshall* JCM800* MkII
Marshall* DSL2000*
Diezel* Herbert mk3
Fuchs* ODS
PRS* Sonzara
Redplate* BluesLine
ToneKing* Falcon
Bogner* Goldfinger
Peavy* 5150
TwoRock* Crystal
Fuchs* Fullhouse
Toneking* Grande
Fender* Tweed Pro
Fuchs* Train45
Vox* Ac30
OUR CAPTURING TECHNOLOGY
TH-U is the first amp simulator which includes both the amp modeling and capturing technologies.
The Rig Models are created from real setups: the Overloud proprietary technology allows to capture the response of an entire rig, including the nonlinear and dynamic response of the amplifier, the cabinet, the microphones, the mic preamplifier and the room sound.
The Rig Player, integrated into TH-U, allows you to reproduce any nuance of the sampled rigs and to combine the models of different setups.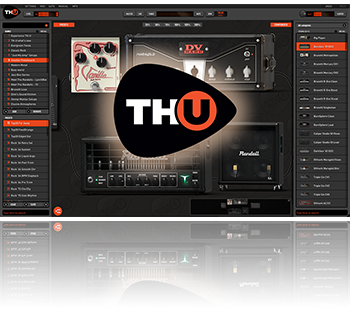 How to use it
This Rig Library can be loaded into any edition of TH-U which includes the Rig Player:
How to Install
1. Drag the library file into TH-U
2. Enter the serial number you have received after purchasing the library
* Any use of third party trademarks, logos, mentioned brand names, products and services is only referential and Overloud hereby disclaims any Sponsorship, Affiliation or Endorsement of or by any such third party.