TH-U Rob Balducci
The signature collection of the Instrumental Rock virtuoso Rob Balducci.
Amp + Cab + FX models and backing tracks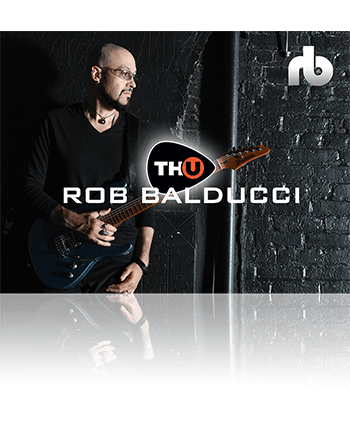 TH-U Rob Balducci Pack
TH-U Rob Balducci Pack is an all-in-one Guitar Plug-in Suite developed with the Instrumental Rock virtuoso guitarist Rob Balducci. Rob's go-to pedal, amplifier and cabinet setups, as well as the backing tracks of his most famous songs, are included in this TH-U Pack:
The exclusive Libra head and its matched cabinet
8 Amps + 8 Cabs captured from his favourite setups
2 exclusive distortion pedals: X-AC and X-BB
12 backing tracks of his most famous hits
(not included in the iOS pack)
20 Presets with the tones used in his songs
... in addition to 1 Amp, 2 Cabs and 17 effects including overdrive, compressor, delay and modulation pedals and racks (see the full list below) from the TH-U Premium collection.
TH-U Premium owners can get this pack at a reduced price
STANDALONE AND EXPANSION PACK
TH-U Rob Balducci is both a TH-U expansion pack and a Standalone plugin, meaning that it can expand the model list of an existing TH-U installation, or it can also be purchased as self-contained pack which includes all the TH-U editing features, including the Rig Player, the Tuner and the Looper, with no need to have a pre-existing TH-U license.
NEW! Libra head and cab
The Libra is the head designed by Rob Balducci for his main lead tones. It offers the kind of presence and sustain ideal for instrumental rock melodic solos. The picking attack is sharp and smooth, even at the higher gain settings. Should be used in conjunction with its 4x12 Libra cabinet.
NEW! Rob's amps and cabs
The pack includes the captures of Rob's favourite amps and cabinets:
Fried Smallbox* 50 + Brit 4x12" with Creamback 75 speakers
Fend Bassman* head + 4x12" cab with G12T-75 speakers
Bogner* Fish + Bogner 2x12" with G12M speakers
Bogner* XTC + Bogner* 4x12" with V30 speakers
SLO100 + VHT 4x12" cabinet
Boogie* JP2C Petrucci* + Boogie 4x12" recto cabinet
Boogie* Mark IIC+ with Boogie 2x12" recto cabinet
Twin* Reverb with its 2x12" combo speakers
NEW! X-AC and X-BB overdrive
The X-AC model seeks to recreate the tone of a Xotic* AC Booster pedal. It is a highly transparent overdrive, used as a principle gain stage for those who like an extremely organic distortion that cleans up when you roll off the guitar's volume. The distortion it produces is warm and open and helps articulate your playing nuances.
The X-BB model seeks to recreate the tone of a Xotic* BB Preamp pedal. Reminiscent of a tube amp breaking up, it is a great sounding soft distortion and sustain pedal and it has a special place in Rob's pedalboard. It is extremely versatile, and it allows you to get a very wide range of different tones. It will work extremely well as a clean overdrive, or even something heavier like a hard rock overdrive tone.
Backing tracks and song presets
The pack includes also 20 patches Rob designed for his songs, as well as 12 backing tracks you can use to play along or practice:
821 Monroe Drive
Amadeo
Child 6 22
Ciree3
Empress
Fear
Friction
Ring Of God
The Queen Of Cups
Trinity
Twelve Twenty-Four
Violet Horizon
18 MORE MODELS
TH-U Rob Balducci contains also a complete collection of effects, amps and cabs used in Rob's albums, including:
1 Compressor, 2 classic Overdrives, 5 Delay/Reverb effects, 4 Modulation pedals a Wha Wha, an Octaver a Graphic Eq pedal, a Noise Gate, a Whammy-like pedal, 1 additional Amp and 2 additional Cabinets.
Mobile version available
The Rob Balducci Pack is also available for TH-U iOS as an In-App purchase.
GET IT FOR JUST $1
Activate the Desktop license and unlock the iOS version for just $1!
3D Cabinet Simulation + Double IR LOADER
TH-U offers a matrix of 4 microphones which can be placed anywhere in the 3D space in front and even behind the cabinet, change the angle and pan them in the stereo space.
Fluid Convolution allows to move the mirophones seamlessly and use long IRs to get realistic and solid tones.
A double IR loader integrated into the cabinet module allows to load and mix IRs with the cab microphones.
The ReSPiRe 2 technology allows you to choose between the real response of the cabinet and a processed version optimized to fit into the mix
6 different room types and 18 microphone models can be selected.
MIDI total control
Setting up a MIDI floorboard is as easy as clicking an element on the TH-U interface and pressing the corresponding pedal on the MIDI floorboard. TH-U learns the MIDI connection and makes it instantly available in any preset. Gigs have never been so much fun with TH-U!
* Any use of third party trademarks, logos, mentioned brand names, products and services is only referential and Overloud hereby disclaims any Sponsorship, Affiliation or Endorsement of or by any such third party.