EQ84: Discrete Class A British EQ
Overloud EQ84 is the simulation of one of the most renowned Discrete Class A British EQ, used in countless hits from the '70s to nowadays. All the components of the original circuit have been modeled, including the rich harmonics and saturations that naturally occur when the equalizer is operating.
NEW! Resizable graphic interface
Hyper-realistic simulation of the original British Class-A EQ, thanks to the 4th generation DSP technology
6 bands eq: 2 shelving, 2 peaking, 1 high cut, 1 low cut
Individual band Cue
Continuous frequency selection
Mic/Line preamp simulation
Simulation of all transformers in the original unit
Low CPU usage: more than 1500 instances on a Macbook Pro Retina
Multilevel undo-redo
A/B Comparison
Lots of presets designed in real mixing sessions
Scribble Strips

: take notes anywhere on the plugin panel
BEYOND THE ORIGINAL HARDWARE
EQ84 extends the features of the original hardware and joins the flexibility of the digital world to the character of the analog processing.
Band Cue
The Cue button allows to hear the part of the frequency spectrum that is being affected by that band.

Continuous Frequency Selection
While the original hardware has preset frequencies only, the EQ84 allows to select all the intermediate frequencies.
Additional Mid Band
While the original hardware has one Mid band only, we added a second band for increased flexibility.
"I'am absolutely in love with the EQ84!!!!! 
A touch of 10 kHz changes everything, including the mix buss.
You really nailed the Neve saturation sound - it's so musical and satisfying to the ear."
- Greg Wells (Adele, Katy Perry, Mika, OneRepublic)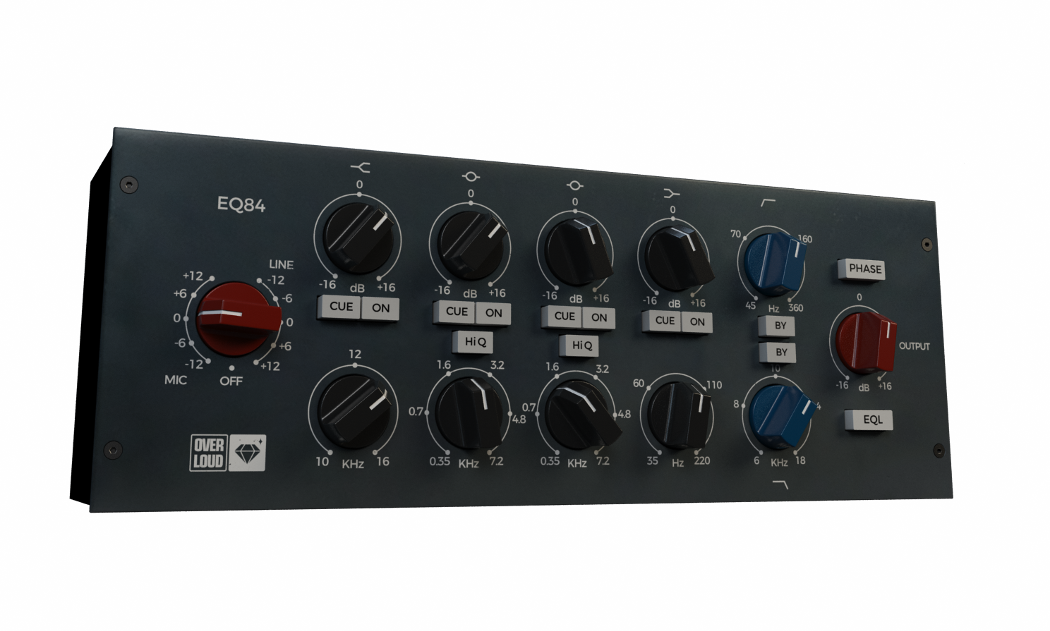 PUSHING THE EMULATION TO A NEW LEVEL
EQ84 emulates one of the most desired EQ module in the history of recording and mixing. Its warm, fat, and rich sound, with an incredibly detailed midrange, still excite even the most experienced engineers who are mixing with it.
EQ84 includes the simulation of both the Line and Mic preamplifiers. this section can be pushed in order to enrich the sound with its characteristic musical saturation.
EQ84 exactly reproduces the original frequency response even in the highest-end of the spectrum, near the Nyquest frequency, which is the point where most of the digital simulations fail. Thanks to a proprietary DSP technology, Overloud has been able to achieve this result with no phase distortion and without using oversampling.
COMPOSE YOUR CUSTOM BUNDLE AND SAVE
You can purchase a bundle of 3 or 5 plug-ins and unlock the Gem plug-ins of your choice.
* Any use of third party trademarks, logos, mentioned brand names, products and services is only referential and Overloud hereby disclaims any Sponsorship, Affiliation or Endorsement of or by any such third party.