LRS Father of the 800
The most comprehensive capture of a 1979 British JMP* 2204 Master Volume head (146 Rigs)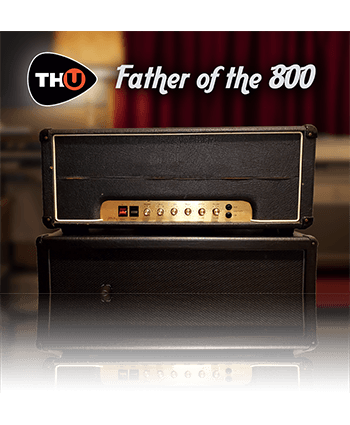 LRS Father of the 800
LRS Father of the 800 is the TH-U expansion library, designed by Live Ready Sound, seeking to recreate the sound of a 1979 Marshall* JMP* 2204 Master volume amp captured with multiple cabs, mics and overdrive pedals.
This pack does blues, rock, classic rock, jazz, metal and everything else! Tones to dream of. Masterful. It is composed by 146 rigs, including 15 DI captures, created spanning all the possible dynamic levels with the following gear*:
CABINETS
Marshall 1960AV
Mesa 2×12 cabinet with V30
Mesa 2×12 cabinet with H30
4x12 Cab with V30, Creamback H75, 1988 T75 and Alnico Gold speakers.
MICS
SM57 and R121 seeking the combination sweet spot at each capture
OVERDRIVE PEDALS
Blade
Savage Drive
SD-1
Big Muff
FREE TH-U ESSENTIALS WITH THIS LIBRARY
You will receive a TH-U Essentials license for free with the purchase of any Rig Library.
A TH-U Essentials license will be deposited on your account when you authorize a Rig Library.
Discover TH-U Essentials...
ALSO ON iOS

This library is available on iPhone and iPad for the THU App & Plug-in.
Get it in the App Store

If you already own the library for Mac or Windows, you can extend the license for iOS at just $1
 
HOW TO USE IT
This Rig Library can be loaded into any TH-U edition.
If you don't own TH-U, then by purchasing this library you will receive a TH-U Essential License for free.

WATCH THIS TUTORIAL FOR A STEP-BY-STEP GUIDE ON THE RIG PLAYER
 
How to Install
1. Drag the library file into TH-U
2. Enter the serial number you have received after purchasing the library
* Any use of third party trademarks, logos, mentioned brand names, products and services is only referential and Overloud hereby disclaims any Sponsorship, Affiliation or Endorsement of or by any such third party.